Howdy folks! 🤠

I'm on a quest for my next adventure.
Keep reading to find out what I'm looking for in my next full-time role. In the meantime, I am open to contract or fractional work on a project basis.
I'm a multi-hyphenate developer community advocate.
I am passionate about finding new and innovative ways to communicate, educate, and elevate others.
I am a proven expert at bridging teams and industries from media, product, engineering, design, developer relations/community, and customer success. My nerdy heart is never far behind — I'm a seasoned educator driven by a lifelong love of learning.
I am an open source enthusiast. Most recently — this has taken the shape of being active in the open source, machine learning, and larger Python ecosystem. I've delivered lectures and workshops on open source development, APIs, machine learning, and open data.
I am a creator. I got my start exploring caches on Geocatching.com and making Sims2 custom content.  Currently, I produce and perform in an AI comedy show that's been featured in the New York Times (twice!), the LA Times, and others.
I am a storyteller. My formal educational chops come from the journalism world. I first intended to be a political reporter, but after a semester of court reporting, the monotony got to me.
I am a multi-hyphenate. I fueled my creative mind by working as a graphic designer and director of everything at a creative studio. I bounced between product management, user experience, and client relations. This is where I learned how to code; crafting email templates and Shopify sites. I continue to embrace a diverse set of skills across a variety of industries, making the context switching that often comes with developer advocacy and community of roles a breeze.
I am an academic. I completed my Master of Arts in media innovation at NYU's Studio 20 program. I spent a year researching fandoms and creators to understand the business models behind both. At NYU, I worked as a project lead with the Financial Times as a UX + product researcher.
Pass me the mic, I'm comfortable in front of a crowd. I'm a stand-up comedian, public speaker, ignite talk-giver, adjunct professor, and sketch comedy writer. I've given over 35 professional talks and workshops throughout my career. Engaging audiences small and large is a personal strength.
I love working with do-ers. I am passionate about those who create: developers, designers, authors, artists, musicians, and beyond. Empowering folks to embrace their thing and do what they do best is very much my thing.
I'm a quick learner, an empathetic builder, and a strategic thinker. I thrive in cross-functional roles where I can flex my skills as an effective communicator. I'm comfortable under pressure, honor a deadline, and am confident in my abilities as a cross-functional communicator.
I know that nerdy = fun. I love using pop culture datasets for examples, I build comedic experiences Replicate AI, Docker, Hugging Face, D-ID, and Eleven Labs, and even built a SMS-chatbot for my own wedding planning.
I actively practice sharing what I know through talks, tutorials, and other means of education.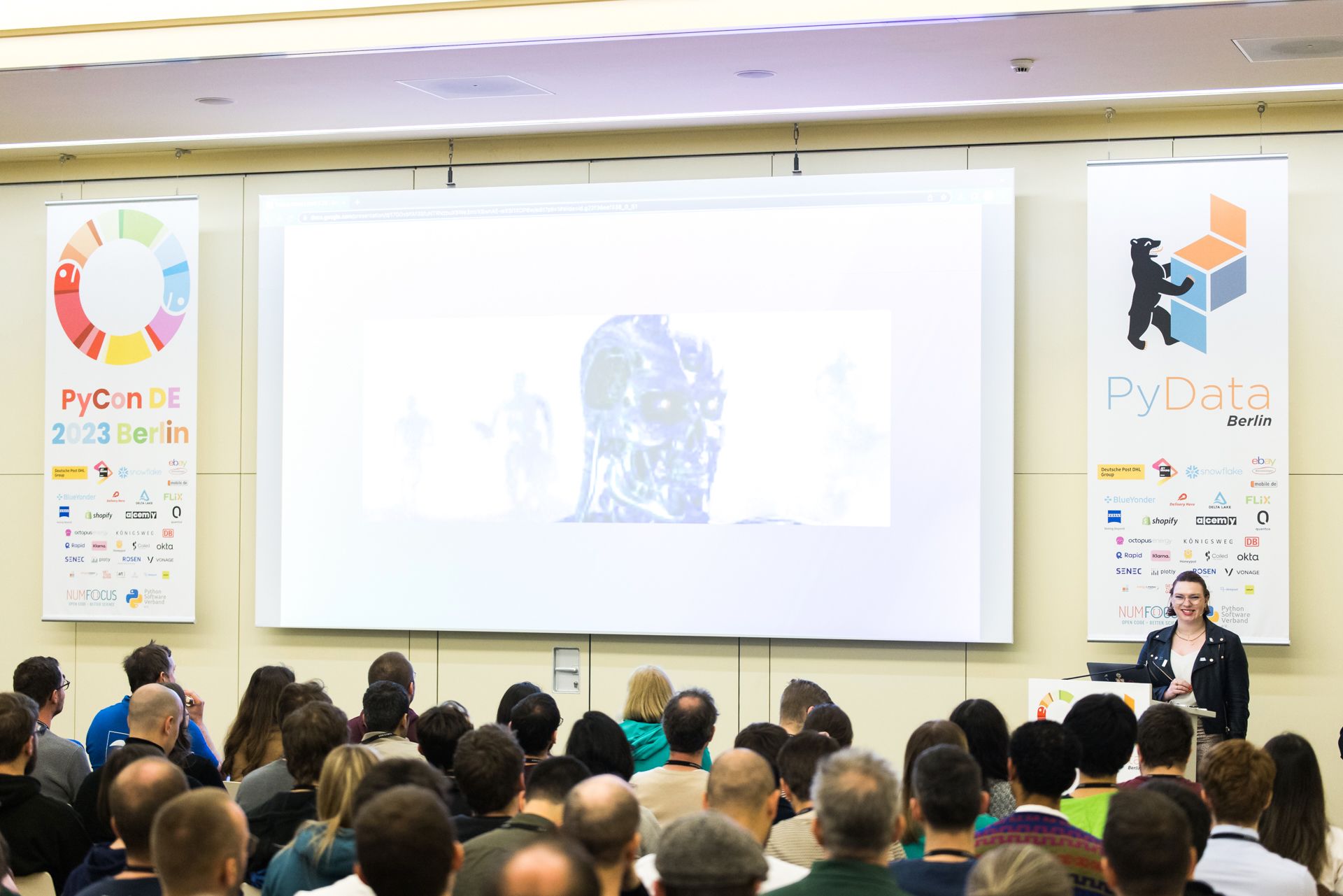 What am I looking for in my next role?
While I am looking for the eventual full-time role, I am open to contract work on a project basis until that perfect full-time role comes up. Here is what is essential to me in the organizations that I work with.
Kind people doing good things. I value kindness in those around me. I love helping others do what they do best — whatever that may be. I know the talents and value that I bring to the table, and am additionally self-aware of what my weak spots are.
Transparency and candor. I look for transparency in process, strategy, and decisions wherever I might land. Let's leave the elephants out of the room so we can focus on what's most important.
Embrace learning. As a seasoned educator and lifelong learner, being in an environment where we embrace new skills and growth is important to me. I love being intellectually stimulated through new challenges or opportunities.
Autonomy and trust. I'm at a senior level in my career and have had proven successes in the past. I ask for an appropriate amount of autonomy and trust to do what I do best.
Flexible and remote work environment. I've worked remotely even before it was "cool." I'm an early riser and like to get a good jump start on the day. I thrive in flexible and remote work environments and am a skilled communicator in asynchronous formats, and would prefer to keep it that way.
Opportunity for growth and mentorship.
Fair and equitable compensation and healthcare benefits.
Here are some titles that fit what I'm looking to do next.
I'm looking for a senior+ level role with room to grow. I envision myself working in a cross-functional role alongside developers in a position I can embrace my skills as an educator.
I also understand that the community and developer relations industry is nascent and still growing, so below is not an exhaustive list of titles. If you feel you have a role that may be up my alley — please reach out.
Developer/Technical Community Advocate
Developer/Community Education
Educational Program Manager
Developer Community Program Manager
Developer Relations
Developer Experience
Community Moderation + Online Safety
Open Source Program Manager
Open Source Advocate
Product Evangelist
Beta Community Manager
Product Manager: User Research
It's a bonus but not a requirement if your organization has...
Unlimited PTO (and a push by the team or company to use it).
Unlimited sick leave.
401K match.
A home office setup budget.
A professional development budget.
There are things for certain I know that I am not.
I've had the chance to wear many hats throughout my career, and for this, I'm fortunate. My multivariate background has allowed me to discover what I'm not interested in as much as what I am interested in.
I am not an account manager, sales professional, or marketing lead.
I am not a graphic designer or illustrator.
I am not a videographer, photographer, or animator.
I am not interested in taking on a full-time role at a web3 organization.
I am not comfortable with going with the status quo because it's always been so. I expect individuals and organizations to be candid with the why behind what they do.
I believe in celebrating the big wins.
Here are some of mine:
Launched education initiatives at HumanSignal and led collaborative workshops on Reinforcement Learning, Zero-Shot Learning, among others.
Collaborated as a team to establish and measure target community metrics, and open source metrics for the Label Studio project.
Served as a maintainer to help triage and manage open source issues and pull requests for Label Studio. Used working knowledge of our API, Python, and containerized development (Docker) to troubleshoot community issues. Worked cross-functionally to establish how key contributions should be handled.
Used activations to drive engagement that led to product adoption. Key Activations include presenting at PyData Berlin, working with Practical AI at ODSC, and delivering relevant, yet comical lightning talks at PyCon.
Played a key role in ecosystem projects, including content creation and later activations for the Label Studio Integrations Library.  This library featured target collaborations with Hugging Face, Lightly AI, Pachyderm, Galileo, OpenMMLab, and more.
Developed and launched Orbit education strategy, leading 6 education events/month focused on developer & product builders.
Scaled the Orbit community from 7K total members to over 30K total members.
Experienced content creator across audio, visual, written, and technical content mediums, with consistent brand and press mentions across industries.
Subject matter expert backed by NYU + CUNY focused on the creator economy and its viability through user-led research of solopreneurs + fandom communities.
Leverage viral moments by executing strategy efficiently, becoming CEO of the Elliot Virtual Mall. Generated partnerships + press mentions with STUDS, Jeff Staple, Morning Brew, Taylor Lorenz, Rally Rd., Emmett Shine, Pattern Brands, + more.
Find me online
I'm active on Twitter (X?), Mastodon, and Bluesky, share upcoming events on my luma page, keep a log of professional activities on LinkedIn and Polywork, share pictures of my dog and comedy reels on TikTok and Instagram, build projects in public on GitHub, showcase conference talks and lectures and the DevRelish podcast on YouTube, and live stream on Twitch.
Keep in touch with me, check in on all my sites on my bio page, or learn more about where I'm coming from here.
When can you start?
I'm actively interviewing and ready to start my next role when the fit feels just right.
Where are you located?
I'm based in Brooklyn, NYC.🗽 I currently don't have the desire to relocate, but will travel for work.
Why a for-hire page?
If I'm asking for transparency from my employer and colleagues, it's only fair that I do the same. By setting my expectations and wish lists out there, I can open myself to opportunities and help find what will be the best fit for all parties.
How can I get ahold of you?
Drop me an email at erin@erinmikailstaples.com with what you've got in mind, and I'll be sure to get back to relevant job-related items within 48 hours.
---
(PS — Special thanks to Maurice Cherry, Julie Pagano, Brenna Flood, and Andy Pressman — their "for hire" pages inspired me to do this for myself. Want to make your own? Check out this blog post here.)
Pinky promise no spam. Sporadic updates on what I'm up to in open source, machine learning, community building, among other things is much more my vibe. 😉