Getting started by striking it out on your own as a media solopreneur.

Innovation in crisis
We've experienced an unreal amount of unrest within the last year. The crisis behind journalism — both in its sustainability, trust, viability, and growth, has only continued to grow. With the COVID-19 pandemic and a hot button election year, we've needed access to good, quality information provided by journalism more than ever, but have failed to bridge the gap between how we're actively holding conversations and how information is being distributed. On top of this - those up-and-coming creators who specialize in these new forms of communication are most likely to be laid off.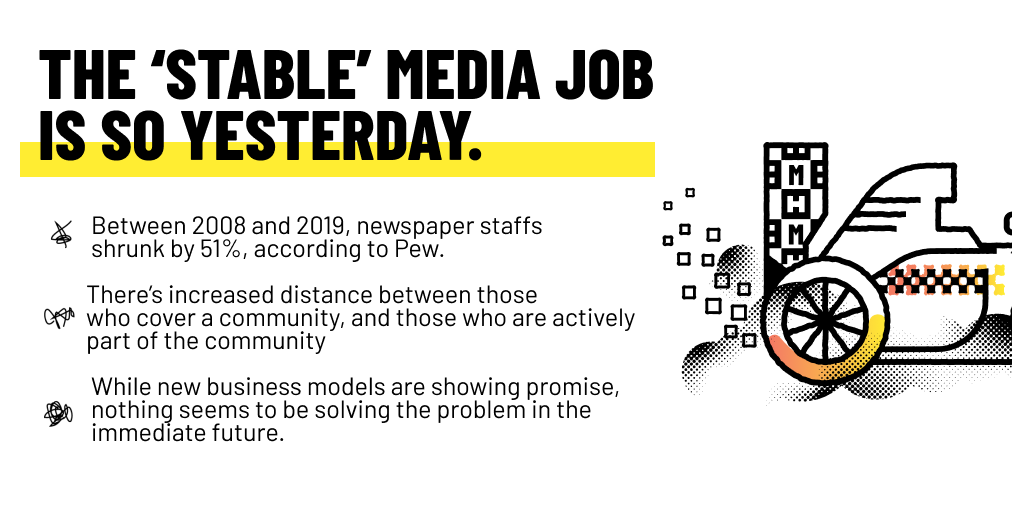 The concept of a media solopreneur started to take shape. The advice given to students at countless times has been "start building your audience now," "write something," or "find your followers." We've sacrificed authenticity for clout, but in some ways, it can be clout that keeps some folks going.
Solopreneurship provides an answer to unstable media climates. It offers a solution to continuing your craft and putting your stake in the world, without the burden, restriction, or even dare I say financial, or career instability. Some prominent media solopreneurs have even claimed that motivation for doing it on their own is the freedom from editorial staff or decisions.
Solopreneurs, while free of some of the bureaucracy and instability of the newsroom, face other obstacles. Serving as your own editorial board, your own tech support, writer, editor, content strategist, designer... the list goes on. Getting started in your career as a solopreneur requires a sort of self-onboarding. Materials to get started and going aren't provided in a sort of buttoned-up onboarding provided by most newsrooms.
A media solopreneur is someone whose primary product is content. This could be a newsletter, a blog post, a podcast, vlog, webinar series — you get the idea. They're building their substack empires, or have scaled their newsletter to be a larger corporation, or maybe just maintaining it for a few close friends for fun.
The creator economy or the passion economy is the system that individuals make a living through creating content, operating as individual small businesses. The tools and platforms that these creators use to create or share content are also part of this ecosystem.
Platform refers to the outlet in which the creator publishes content. This can take the shape of a blog, or podcast, or simply a social media platform. In the case of some creators, the platforms have allowed them to go viral in some sections.
Solopreneurship isn't as cut and dry as outlined above. In fact, many creators wouldn't necessarily describe themselves as media solopreneur or content creators. They've just been doing what they've been doing for a while, and have sort of stumbled into making a living. The most important thing to note is that you can be considered a solopreneur even if you're not making a single dime. Monetization and solopreneurship are not directly related, however for many can be.
This feels like I'm creating a startup?
Well, it's because in many ways you are. You're starting a business. Those who are media solopreneurs and those who are building a startup often hold the same traits to a high pedestal. They're extremely passionate, curious, trustworthy, looking for adoption, and often looking for monetization. This isn't a bad thing. If you want to bootstrap a living as a creator, you need to be prepared to think about things from a business angle as well.
Here's where you get real with yourself; ask yourself the tough questions.
What happens if my publication ceases to exist?
What happens if I want to scale this into a business beyond a solopreneurship?
What is my personal code of ethics on how I will operate and do business?
Solopreneurship requires product thinking (and business thinking, and creativity, and bookkeeping, and your own creative panel, and your own editing, and….)
That doesn't mean that this isn't possible — or that I'm rooting for their downfall, it just means that this takes work. And work isn't a bad thing. I'm concerned that we often jump into this endeavor without thinking fully of what's next or the workload that this actually takes. It's at this time that we need to make sure that we're honest with ourselves on the lift that it takes to be a successful solopreneur.
So what's next?
Go ahead, dip your toes in. Write your vision out, daydream about it, sleep on it, then make an action plan. How can you build your minimum viable product, and test it one baby step at a time?
Join me to take that first step.
Pinky promise no spam. Sporadic updates on what I'm up to in open source, machine learning, community building, among other things is much more my vibe. 😉